Sputnik
International news agency and radio broadcaster
Sputnik's mission is to provide objective coverage of global events. We tell the untold and offer a platform for different voices so that our audiences can draw their own conclusions.
News websites
Sputnik websites are available in 29 languages
Русский
English
Español
Deutsch
Français
Italiano
Čeština
Polski
Српски
Moldovenească
Беларускi
Հայերեն
Аҧсышəала
Иронау
ქართული
Azərbaycanca
Arabic
Türkçe
Persian
Dari
Қазақ тілі
Кыргызча
O'zbekcha
Тоҷикӣ
Tiếng Việt
日本語
中文
Português
हिंदी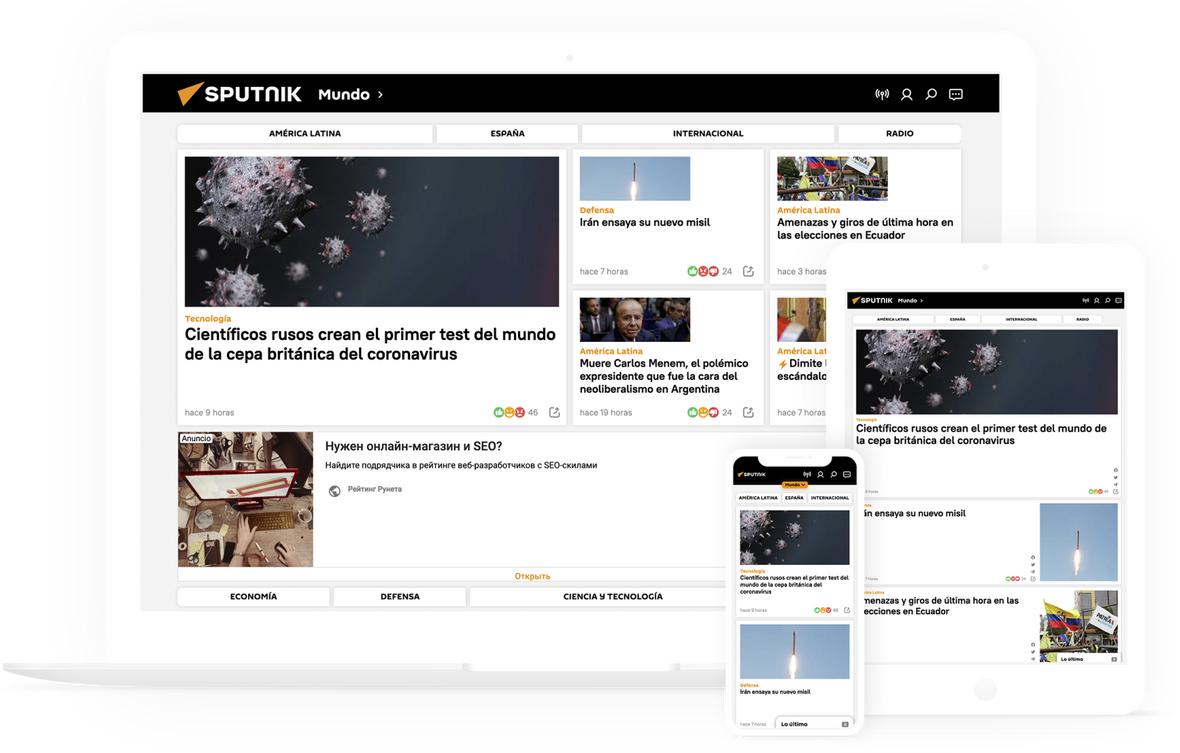 Sputnik has offices in dozens of countries. In addition to the latest news, Sputnik publishes analytical materials and exclusive interviews. Our news websites provide the reader with a variety of content: infographics, videos, photo reports, online broadcasts, online voting, streams.
Newswires in six languages
Sputnik's round the clock newswires are available in Russian, Arabic, English, Spanish, Chinese and Farsi.
Sputnik's newswires deliver thousands of stories every day that can be accessed via an online terminal, by email, via an FTP server or a mobile app.
Radio
Sputnik Radio offers up-to-date news, analysis from leading experts on everything that happens in Russia and abroad, exclusive interviews and original programs.
Sputnik Radio is the most cited radio station in Russia*
In Russia, Sputnik is broadcast on FM waves in Moscow and Moscow region (91.2 FM), St. Petersburg (91.5 FM), Sevastopol (105.6 FM), Simferopol (102.3 FM), Kherson (88.1 FM), Ulan-Ude (102.8 FM), Pskov (102.6 FM), Kazan (105.8 FM), Samara (99.1 FM), Saratov (105.8 FM), Ufa (91.1 FM), Kirov (101.0 FM), Perm (91.2 FM), Chelyabinsk (99.5 FM) and Yakutsk (103.6 FM).
Broadcasts are available on www.radiosputnik.ru and in the mobile application.
ORIGINAL PROGRAMS
Also, Sputnik is broadcast in the analog and digital formats in 12 languages ​​in more than 100 cities around the world.
The radio channel programs are available in Armenia (106.0, 90.1 FM), Abkhazia (101.3, 103.2, 105.9, 100.7, 102.1, 101.7 FM), Argentina (92.5, 103.0 AM), Brazil (760АМ), Germany (Multiplex 12С), Kyrgyzstan (89.3, 101.1, 101.9, 95.1, 105.0, 107.1 FM), Austria (Multiplex 11С), Iraq (91.5 FM), USA (1390 АМ; 105.5 FM; 1140 AM/102.9 FM/104.7 FM), Turkey (101.4, 90.2, 97.8, 91.0, 96.2 FM), Lebanon (93.3 FM), Serbia (100.8/99.1/105.4, 92.0, 88.9, 97.7, 93.2, 104.9, 100.4, 106.4, 89.5, 106.6, 106.2, 104.7 FM), Uruguay (97.9, 102.5 FM), Switzerland (Multiplex 9D, 10A) and South Ossetia (106.3 FM).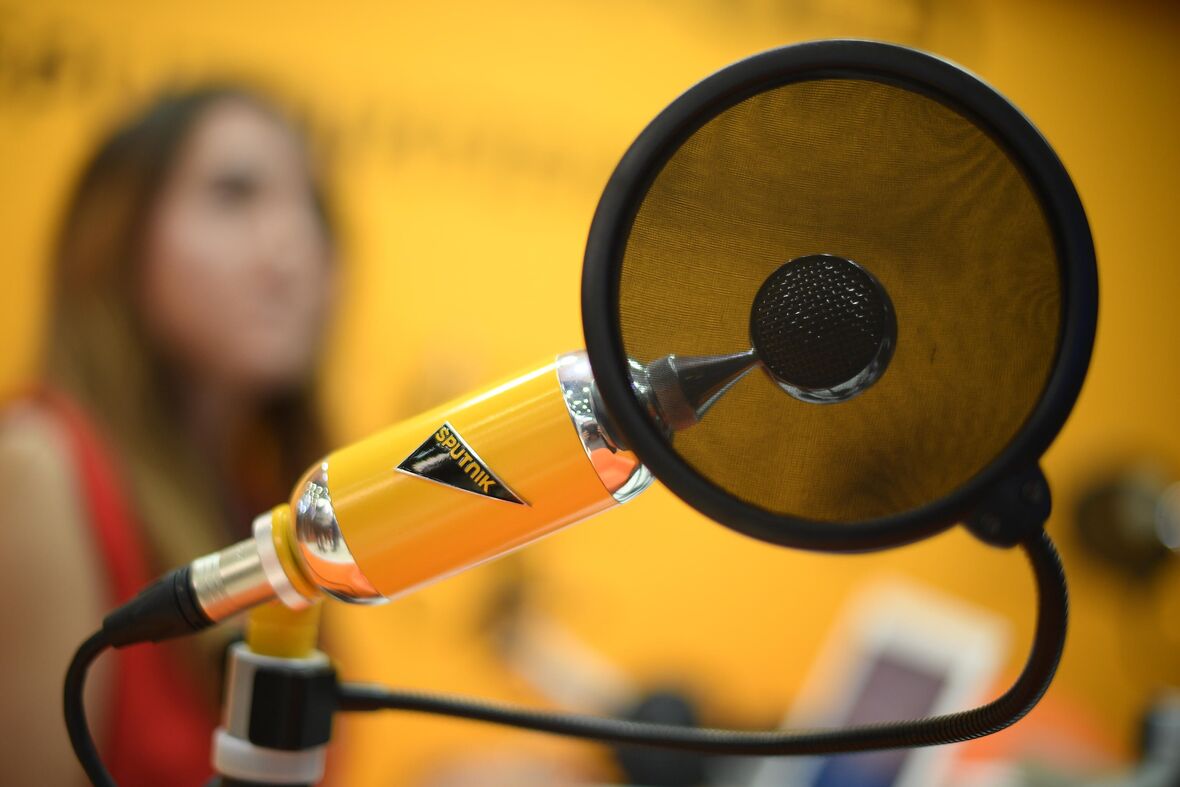 Press centers
Sputnik has multifunctional press centers in 16 capitals around the globe. They host hundreds of press events every year, including via videoconferencing.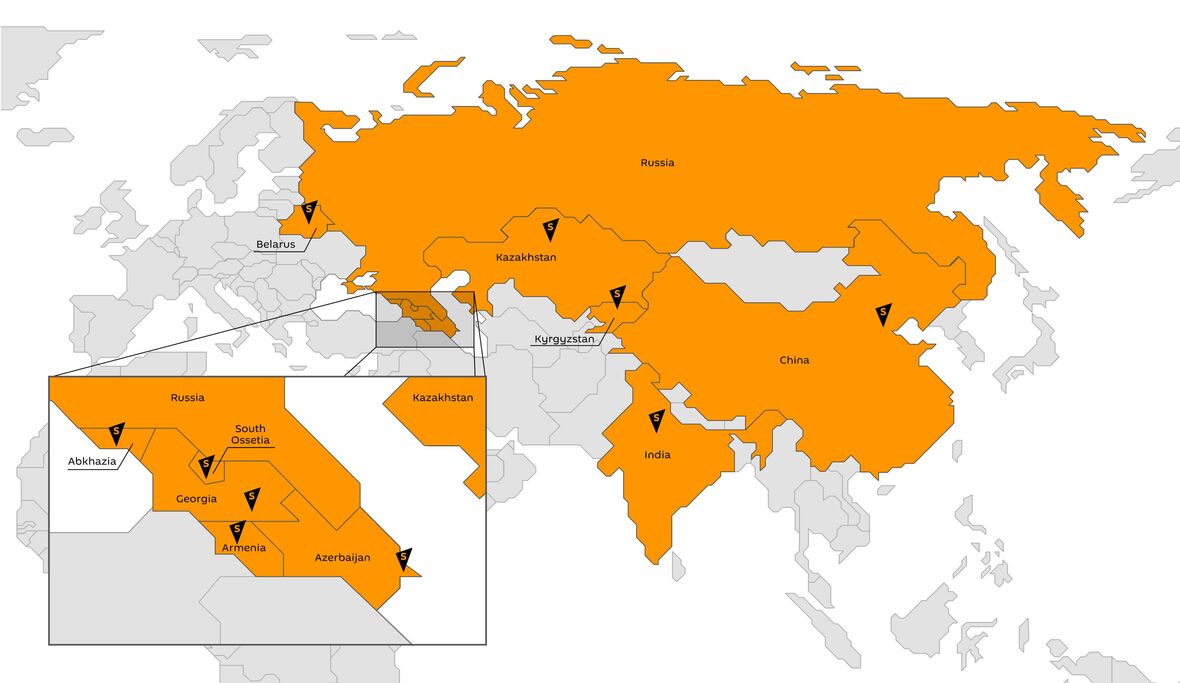 SputnikPro education project
SputnikPro is a project by the Sputnik international news agency and radio for journalists, students, press services and media managers designed to exchange expertise and build professional relationships with our colleagues around the world.
The project has a global reach with a focus on audiences in the CIS and Baltic countries. The modules are led by Sputnik media managers as well as other prominent Russian experts.
80+ countries around the world
More than 10,000 participants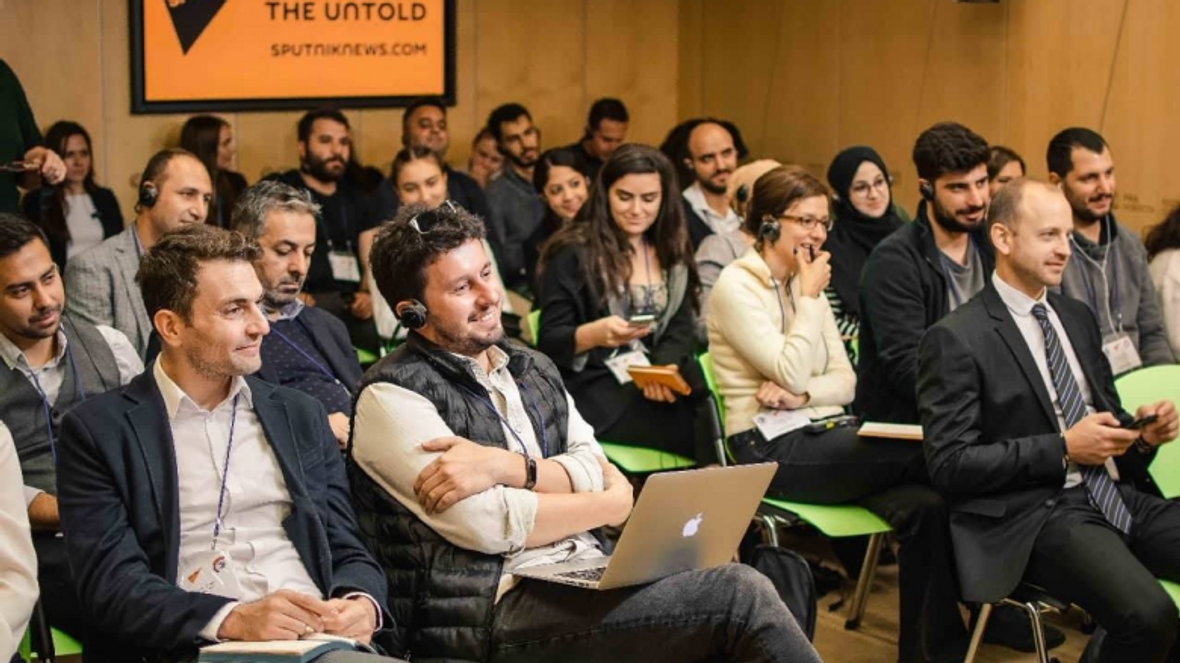 Mobile apps
You can follow the agency's latest news reports in the Sputniknews app in dozens of languages or use the Sputnik Trending Today in Russian app for real-time reporting on the most important events in Russia and around the world.
SPUTNIK TRENDING TODAY IN RUSSIAN