22 August
Johannesburg, Rossiya Segodnya Press Office
Sputnik News Agency and Radio took part in the BRICS Media Forum, held in Johannesburg on August 19 and 20, 2023, as part of South Africa's BRICS Chairmanship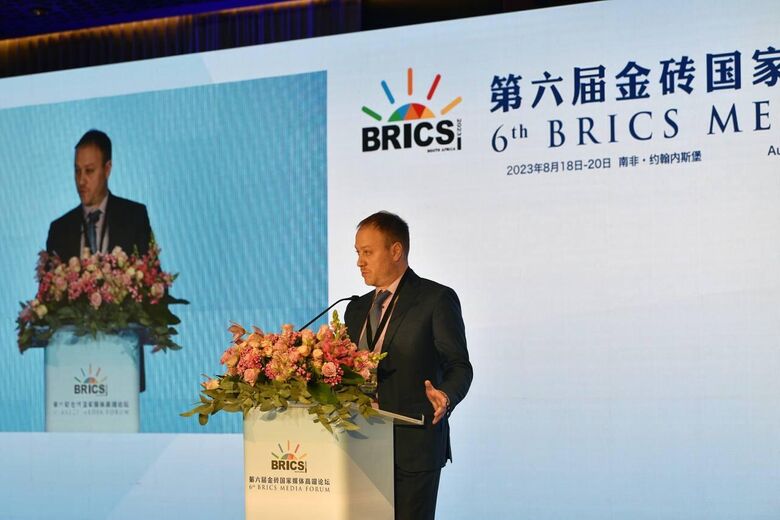 The first in-person event of its kind since 2019, the forum brought together senior media executives from the BRICS countries, including China's Xinhua News Agency, Brazil's CMA Group, South Africa's The Independent Media, and many other media outlets.
The participants focused on discussing ways to strengthen media cooperation in the BRICS+ format, as well as the role of the media in shaping a new world order and innovation in the media industry. In addition to representatives from South Africa, China, Russia, India and Brazil, major media outlets and experts from Zimbabwe, Zambia, Uganda, Cameroon, Senegal, Angola, Algeria, Kenya and other countries were invited to contribute to the event.
Deputy Editor-in-Chief Dmitry Gornostayev took the floor during the forum's opening session. "It is important that the forum is taking place ahead of the BRICS Summit when leaders will make decisions on the way their countries work together. I am certain that our discussions and exchanges will pave the way to specific agreements in the media sector for strengthening our partnership and promoting journalism in the world we share and in which we aspire for better justice for all," he said.
The media forum adopted a plan of action as its outcome document that includes a provision suggested by Sputnik. It emphasizes the need to ensure unbiased and comprehensive coverage of global food security matters, including the pricing and logistics of grain and fertilizer shipments. "The most vulnerable parties to this process need this the most, by which I mean the African countries suffering from the lack of food," Dmitry Gornostayev pointed out.