20 February
Moscow, Rossiya Segodnya Press Service
Users of the updated terminal will now be able to receive latest footage from events around the world in conjunction with text, and view news and archive photos and videos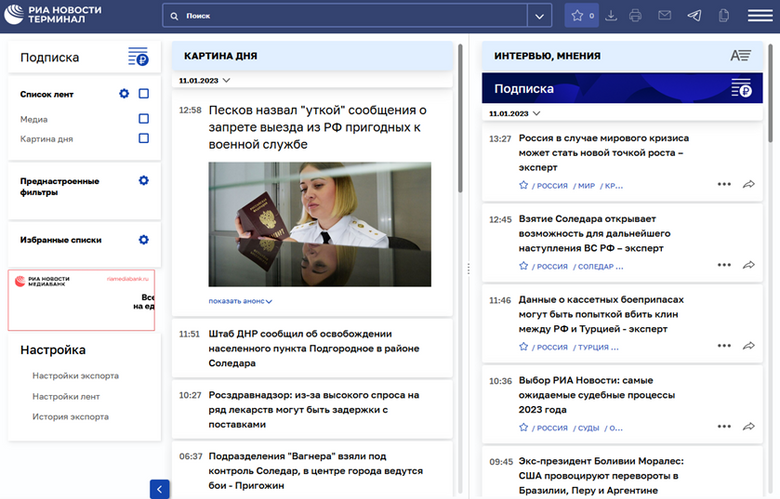 The Rossiya Segodnya media group has launched a RIA Novosti multimedia news terminal. Users of the updated terminal will now be able to receive latest footage from events around the world in conjunction with text, and view news and archive photos and videos.
For the first time, readers have access to some of the restricted content. After logging in through social media, all users can now read and share exclusive content from the agency and the most important news of the hour.
The search feature now uses machine learning to generate relevant SERPs for news and multimedia. The terminal not only provides quick access to archival content by date of publication, but also supports news searches by tags – the options include persons, organizations, events, geographical objects and categories.
The terminal improves the options for customizing content for a specific user, and can integrate the created feeds with the Telegram bot. Now creating your own custom news feeds and collections of content makes working with the information your subscribers need even more convenient and efficient.
Subscribers of the news terminal have access to multimedia content, which can be downloaded from the RIA Novosti Mediabank.
For the first time in the Russian information market, a stream of text news and related news videos and photos is available on s single platform. It will be easier to navigate for our subscribers who buy not only our feed but also videos that we already produce in large quantities at the level of the leading TV channels. Our correspondents are now in the hottest spots of the military operation – from where a daily stream of our exclusives comes. News also comes from more than 120 cities in the world where RIA Novosti and Sputnik journalists work. And one more innovation – for the first time we are offering access to certain content from the subscription news feed upon request to ordinary users – when registering through social media, mobile ort email services.
Deputy Editor-in-Chief and Director of the Main Directorate of Information at Rossiya Segodnya
"The updated terminal is a universal channel for accessing the media group's multimedia products – text, photo and video announcements are published on one platform. Improved technologies for adaptive layout, the speed and stability of operation, the learning search, as well as security enable subscribers of the Rossiya Segodnya media group to comfortably use the terminal both on a desktop and on various mobile devices to work from anywhere in the world," said Dmitry Gruzdev, Deputy Editor-in-Chief of Rossiya Segodnya.