09 February
Sharjah, Rossiya Segodnya Press Service
Over 30 works by the winners of the 2022 Andrei Stenin Press Photo Contest are on display at the Xposure International Photography Festival, which opened in Sharjah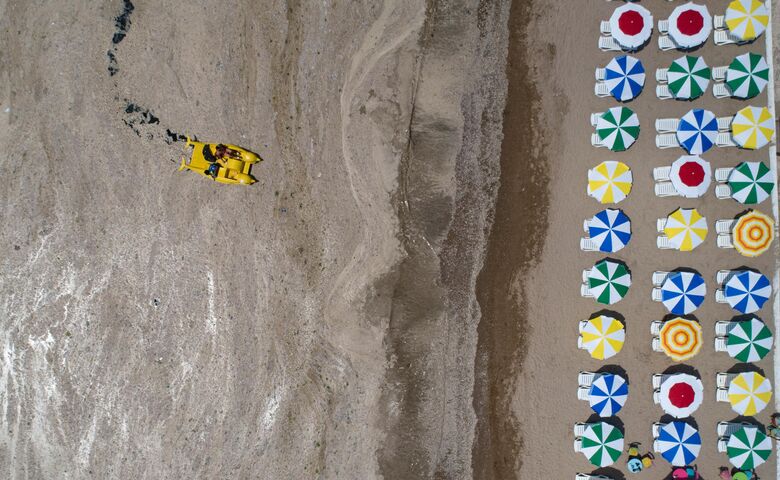 Over 30 works by the winners of the 2022 Andrei Stenin Press Photo Contest are on display at the Xposure International Photography Festival, which opened on Thursday in Sharjah (UAE). Taking part in the opening ceremony was His Highness Sheikh Sultan Bin Ahmed Al Qasimi, Deputy Ruler of Sharjah & Chairman of Sharjah, Government Media Bureau.
This is the first time the contest's road show has come to the United Arab Emirates. Single photos and series by the best young photographers from Iran, Syria, Egypt, India, China, Russia, Bangladesh and other countries can be seen until February 15 at the emirates' main exhibition venue, the Expo Center Sharjah. The expo center will be holding a total of 68 exhibitions at the same time as the festival.
It is a great honor for the Andrei Stenin International Press Photo Contest to present its winning works at the region's largest photography event: Xposure International Photography Festival. Young photographers from the Arab world are among the most active participants in our contest; they have won it many times. We hope that Arab photojournalists' interest in our contest will only grow, thanks to this exhibition as well.
Curator of the Stenin Contest
Before the United Arab Emirates, the road show, which kicked off in Moscow in October 2022, made a stop in Pretoria (South Africa). The contest also plans to hold exhibitions in other cities of the world, including in Southeast Asian and Latin American countries, with the support of its international partners.
As per tradition, the call for entries for the 2023 contest opened on December 22, Andrei Stenin's birthday. Applications can be submitted in Russian, English and Chinese on the contest website through February 28.
About the contest
The Andrei Stenin International Press Photo Contest, organized by Rossiya Segodnya under the patronage of the Commission of the Russian Federation for UNESCO, aims to support young photographers and draw public attention to the challenges of photojournalism today. It is a platform for young photographers – talented and sensitive individuals open to all things new – to highlight people and events near us.
General media partners: VGTRK (National State Television and Radio Broadcasting Company) (Russia), SMOTRIM online-platform (Russia), Rossiya-Kultura TV channel (Russia), Moskva-24 TV channel (Russia).
International media partners: Sputnik news agency and radio (International), RT TV channel and website (International), Independent Media (South Africa). ANA (South Africa), Shanghai United Media Group (SUMG) (China), China Daily (China), The Paper (China), Al Mayadeen (Lebanon).
Industry partners: Russian Union of Journalists (Russia), YOung JOurnalists (Russia),
Russian Photo (Russia), Photo-study.ru (Russia).