01 November
Tehran, Rossiya Segodnya Press Service
Sputnik news agency and radio and Iran's Broadcasting World Service (IRIB) have signed a partnership agreement as part of the agency's representatives visit to Tehran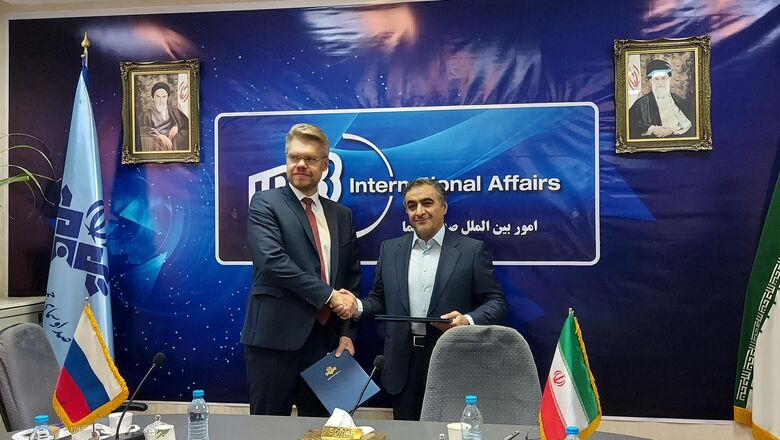 Sputnik news agency and radio and Iran's Broadcasting World Service (IRIB) have signed a partnership agreement as part of the agency's representatives visit to Tehran. The document was signed by Sputnik Director for International Cooperation Vasily Pushkov and IRIB World Service Director General for International Affairs Seyed Morteza Asghari.
The agreement includes the exchange of content in the Persian language and other interaction to promote mutual rapprochement and understanding between the peoples of the two countries. During the signing ceremony, the parties also discussed possible areas of cooperation and participation in joint humanitarian projects.
During direct talks with our colleagues from IRIB, we confirmed our common goals and tasks. This concrete agreement formally outlines our joint work, which will continue to develop under any circumstances.
Sputnik Director for International Cooperation
Seyed Morteza Asghari noted the high level of partnership and expressed hope that the signing of the agreement between Sputnik and IRIB would become a solid foundation for productive cooperation and would provide an opportunity to continue strengthening bilateral relations. He also noted that active interaction between Russian and Iranian media would help to create a clearer and fuller picture of the cultures and lives of Russia and Iran for other countries.
IRIB journalists also took part in a joint workshop by Vasily Pushkov and Ivan Zakharov, Head of the Rossiya Segodnya Middle East Directorate, on the SputnikPro educational project. The Iranian journalists learned about the nuances of news production in today's world and the common challenges for the Russian and Iranian media in an era of information wars.