21 October
Moscow, Rossiya Segodnya Press Service
Vassily Pushkov, Sputnik's director for international cooperation, was the discussion's moderator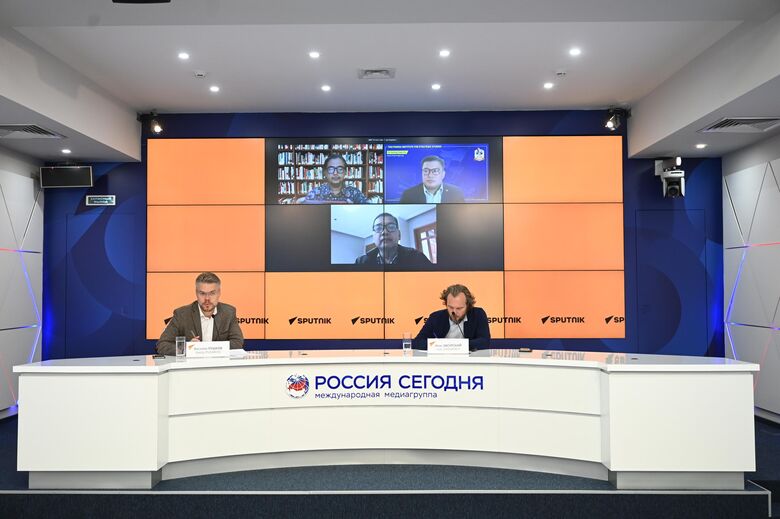 The International News Agency and Radio Sputnik hosted a round table in the format of a video bridge on "The Science Space of Russia-ASEAN: New Challenges and Opportunities."
The participants of Sputnik's video bridge discussed the prospects for the development of scientific and educational dialogue, as well as the importance of scientific communication in promoting Russian-Asian innovation cooperation.
The discussion included the president of the Internet Publishers' Association, CEO of Vernsky Company, member of the Human Rights Council and Environmental Council of St. Petersburg, Ivan Zassoursky; Acting Director of the ASEAN Center at MGIMO of the Russian Ministry of Foreign Affairs Ekaterina Koldunova; founder and CEO of Myanmar's Thayninga Institute for Strategic Studies Naing Swe Oo; head of the Department of Communication Studies at Indonesia's President University Raudy Gathmyr; and Carlos Tabunda, dean of international relations at the Philippines' New Era University. Vassily Pushkov, Sputnik's director for international cooperation, was the discussion's moderator.
In October 2021, ASEAN adopted Russia's proposal that 2022 be the Russian Year of Scientific and Technical Cooperation (ARYSTC). Its purpose is to expand scientific, technological and innovative cooperation between the Russian Federation and the Association of Southeast Asian Nations, including in scientific exchange.