06 October
Addis Ababa, Rossiya Segodnya Press Service
This is the first document in Sputnik's history concerning cooperation with the Ethiopian media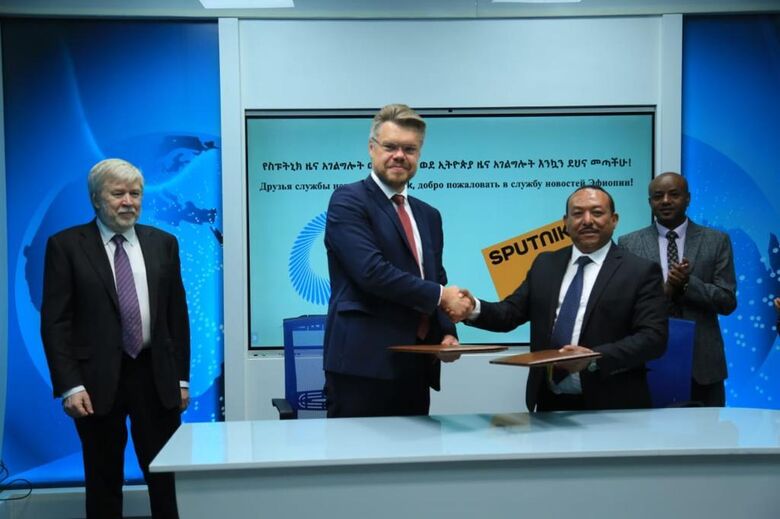 Sputnik News Agency and Radio and Ethiopian News Agency signed a memorandum of understanding in Addis Ababa on Thursday. This is the first document in Sputnik's history concerning cooperation with the Ethiopian media.
The parties agreed to increase cooperation both in the field of content exchange and on joint projects. The document was signed by Vasily Pushkov, Director of International Cooperation at Sputnik, and Johannes Wondirad, Director of Public Relations and Strategic Partnerships at ENA.
Ethiopia is an example of the country where desire to cooperate with Russia is not just words but actions. I'm glad that our partnership with ENA reached new level with the signing of this MoU. We see a great perspective for cooperation of Ethiopia and Russia in media sphere and we are sure that there'll be even more common initiatives in future.
Director of International Cooperation at Sputnik
ENA CEO Seife Deribe Ebdale said: "This MoU is a good opportunity to exchange news and news-related issues with Sputnik News Agency and to communicate with Russian people. Russia and Ethiopia have good relations in any bilateral issues and they use this cooperation for the benefit of the two countries. So I hope this MoU will soon change into the Memorandum of Action. We have many issues to cooperate especially the cultural issues and the social issues".
Director of Public Relations and Strategic Partnership Yohannes Wondirad added: "Our countries have good relationship since long time ago. We have signed this MoU to establish these good relationship and further development on a very high level. And this will help these two news agencies in exchange of news materials. Sputnik can reach audience in 30 languages and this Sputnik scope will help ENA to disseminate African issues to Russia and on International level".
On the evening of the same day ENA journalists attended a workshop by Vasily Pushkov "Media Wars and Fake News: How to Fight Disinformation." The event was held with the assistance of the Russian Embassy in Ethiopia at the Russian Center for Science and Culture in Addis Ababa. Among the listeners were journalists of different Ethiopian media, representatives of specialized organizations, and others.