06 September
Vladivostok, Rossiya Segodnya Press Service
Sputnik and Myawaddy TV Myanmar have signed a memorandum of understanding on the sidelines of the Eastern Economic Forum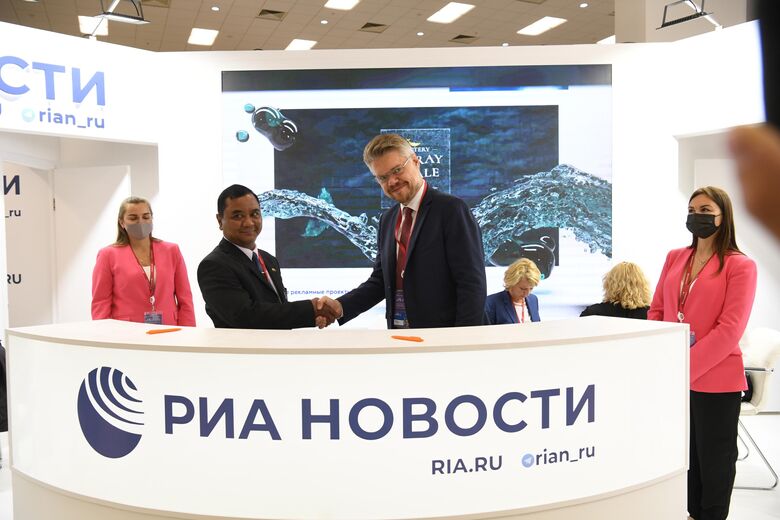 Information agency and radio Sputnik and Myawaddy TV Myanmar have signed a memorandum of understanding on the sidelines of the Eastern Economic Forum in Vladivostok. This is Sputnik's first-ever document on cooperation with a Myanmar media outlet.
The memorandum will become the basis on which the parties will interact, including in exchanging content and holding joint events.
The document was signed by Director of International Cooperation at Sputnik Vasily Pushkov and Director, Directorate of Public Relations and Psychological Warfare Major General Zaw Min Htun.
We are very pleased to see the revival of Russia-Myanmar relations, and in this context, of course, it is logical that both sides are seeking to develop cooperation in the information sphere. We welcome our new partners from Myawaddy TV. We have a lot to offer them and they have a lot to offer us, so I am sure that many practical projects will be launched in the coming years.
Director of International Cooperation at Sputnik
Zaw Min Htun stressed the importance of expanding cooperation in the field of media exchanges between Myanmar and Russia: "Diplomatic relations between Russia and Myanmar were established 75 years ago, but despite such a long history, we don't have many joint projects and we don't know much about each other. The agreement signed today will remedy the situation and strengthen ties between our nations".
The Eastern Economic Forum is taking place from 5-8 September on the campus of the Far Eastern Federal University on Russky Island in Vladivostok. RIA Novosti is the forum's general media partner.