01 September
Moscow, Rossiya Segodnya Press Service
In addition to current Sputnik news photos and Russia's biggest digitized and attributed photo archive, Mediabank contains videos, infographics and cartoons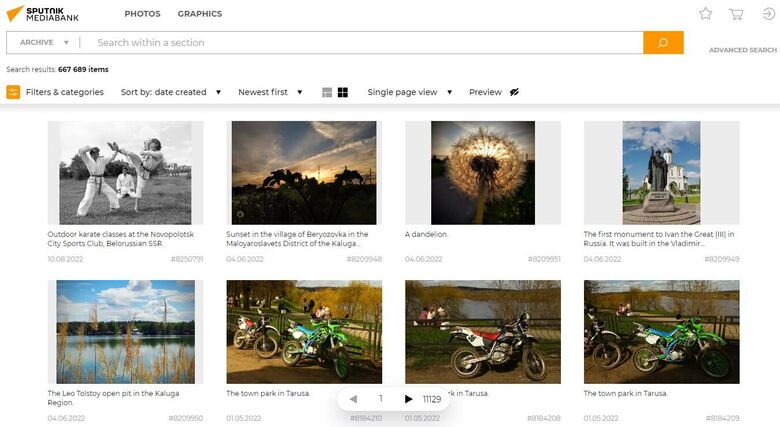 The Rossiya Segodnya media group presented its updated visual content database Sputnik Mediabank on Thursday. In addition to current Sputnik news photos and Russia's biggest digitized and attributed photo archive, Mediabank contains videos, infographics and cartoons.
The updated Mediabank makes it easy to work with photos and videos, whether on a smartphone or an ultra-wide monitor. The platform's users now have access to tools for creating their own collections of multimedia content. Due to the improved website properties, the database works faster; it also ensures higher stability and user security.
Deputy Editor-in-Chief of Rossiya Segodnya
Mikhail Konrad, Rossiya Segodnya Director of Special Projects, added: "I would like to thank the team that did a really great job updating the website. But the most interesting innovations are ahead: the launch of Mediabank is the first step towards further development of a range of products and services for the media group's partners and clients."
More than 3,000,000 images are currently available in the Mediabank, including historical footage from the end of the 19th century and the unique collections of recognized photographers. Every day, Mediabank adds up to 1,000 photos on the most recent and relevant subjects, as well as videos of key events on the Russian and international agenda. Subscribers also have access to static and dynamic infographics, and cartoons depicting high-profile events, which illustrate news stories.