24 January
Belgrade, Rossiya Segodnya Press Service
The award ceremony took place in Podgorica on Sunday as part of a meeting to mark the 150th anniversary of Montenegrin journalism and the 75th anniversary of the association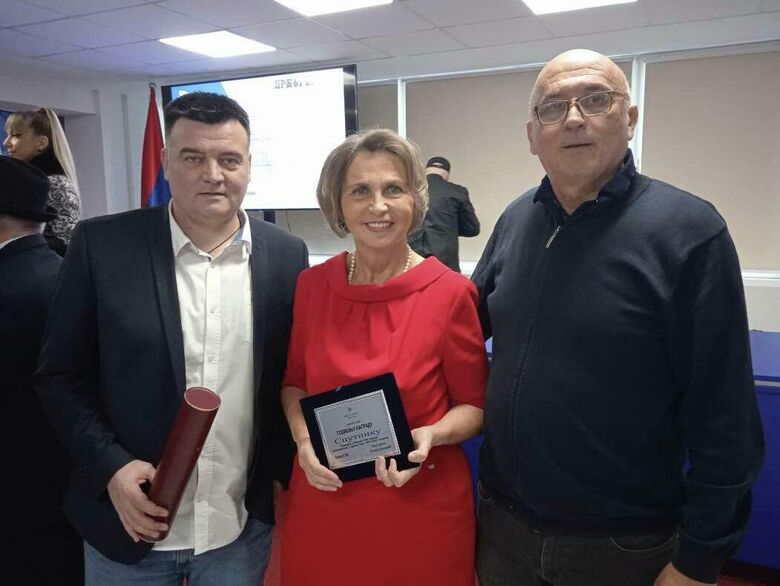 The Sputnik international news agency and radio's Serbia hub has received the annual award of the Association of Journalists of Montenegro (UNCG). The award ceremony took place in Podgorica on Sunday as part of a meeting to mark the 150th anniversary of Montenegrin journalism and the 75th anniversary of the association.
UNCG President Tihomir Burzanovic congratulated Ljubinka Milincic, editor-in-chief of Sputnik Serbia, noting that the local journalistic community's decision probably violated every anti-Russia sanction supported by Podgorica.
In her acceptance speech, Ljubinka Milincic noted that recognition by colleagues is of particular importance in the era of not only post-truth, but also post-journalism.
Modern journalists think more about benefitting those who pay them than about covering events. With journalism looked at from a market perspective, journalists have ceased to be fighters for the truth and have turned into fighters for clicks. They see no shame in speculating on someone's pain, in making money off someone else's distress, lying and stealing for the sake of 'His Majesty the click.' Journalists are divided into friends and foes, with no forbidden tricks in their struggle against each other: the end justifies the means. In this situation, Sputnik is trying its best to stick to the idea of humanity and courage that is at the core of the Montenegrins' cultural code.
Editor-in-chief of Sputnik Serbia
According to the editor-in-chief, Sputnik Serbia is a small editorial office, which has succeeded in changing the information landscape in Serbia in just seven years; before that, it had been entirely shaped by Western media.
At the end of her speech, Ljubinka Milincic noted: "As far as I can see, we have made a difference in Montenegro as well. I think our small but trusted editorial staff, which I am very proud of, should be credited for this. I am especially proud because we have managed to unite people who speak the same language, whatever they call it for various absurd reasons. We are grateful to the Association of Journalists and to Serbian Television (Srpska TV) in Montenegro for the opportunity to share our view."