07 October
Moscow, Rossiya Segodnya Press Service
An agreement to this effect has been signed by Rossiya Segodnya Director General Dmitry Kiselev and Director of the Russian Children's Center Orlyonok Alexander Dzheus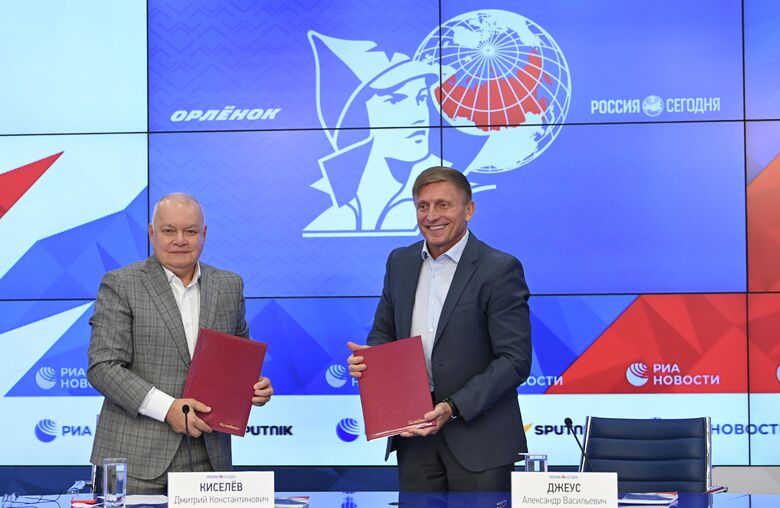 A project to establish a Media Lab of Innovative Patriotic Journalism was launched on Thursday at the Rossiya Segodnya headquarters in Moscow under an agreement signed by Director General of the media group Dmitry Kiselev and Orlyonok Director Alexander Dzheus.
The Media Lab is a joint educational project for Russian and foreign teenagers aged 14-16. They will be able to learn about innovative Russian ideas in the fields of media and data journalism and try their hand at new media formats, from longreads and infographics to podcasts, as well as photojournalism and blogging. Workshops, seminars and public talks will be held offline and online by the leading Rossiya Segodnya journalists, analysts, photojournalists, designers and PR technologists.
The training sessions will be held every three months. The best works will be published in a special section of ria.ru, a Rossiya Segodnya news platform and the best news site in the Russian sector of the internet.
Over the past two decades, the focus in professional training has shifted to international journalistic practices. We have all but forgotten about the vast Russian experience and the galaxy of unique Russian journalists who worked or are working for the benefit of Russia and the world. The Media Lab is designed to make this right by shifting the focus to remarkable innovative Russian media technologies and solutions. Its students have chosen journalism as their profession. We are working together with the Russian Children's Center Orlyonok, a leading organization for the patriotic education of young people in Russia.
Rossiya Segodnya Director General
Orlyonok Director Alexander Dzheus pointed out that this cooperation project is aimed at creating a new educational project. The project participants and Orlyonok teachers will have an opportunity to improve their communication and creative skills, critical thinking, the ability to analyze and assess information, to tell the truth from lies, and distinguish between primary and secondary elements.
"The teenagers will learn about new media formats and then produce, using the guidance of RIA Novosti professionals, creative content that is interesting and useful for their peers. In addition, interaction with professionals will help the kids find their bearings among the multitude of media professions and possibly choose one of them for their future careers," Dzheus said.
The Russian Children's Center Orlyonok is a federal state budgetary educational establishment for children and teenagers aged between 11 and 16. Established in July 1960 as a tent camp, it consists of 10 camps now. Four of them – Stremitelny, Zvyozdny, Shtormovoy and Solnechny – work around the year, while Komsomolsky, Dozorny, Olimpiysky, Yunarmeyets, Olimpiyskaya Derevnya and Solnyshko are only open during the summer. Each camp is using distinctive federal and regional specialized educational programs. Over 20,000 children and teenagers come to Orlyonok every year from all over Russia, post-Soviet and other countries. The center can take in 3,500 students in summer and 1,500 in winter. In 2012, Orlyonok became a member of the UNESCO Associated Schools Network (ASPnet).